My new photo book, "

We Are Building Capitalism! Moscow in Transition 1992-1997

" was published by Glagoslav Publications on 31 March 2019. 
For more information about the book and how to purchase a copy, please click on the front cover (below).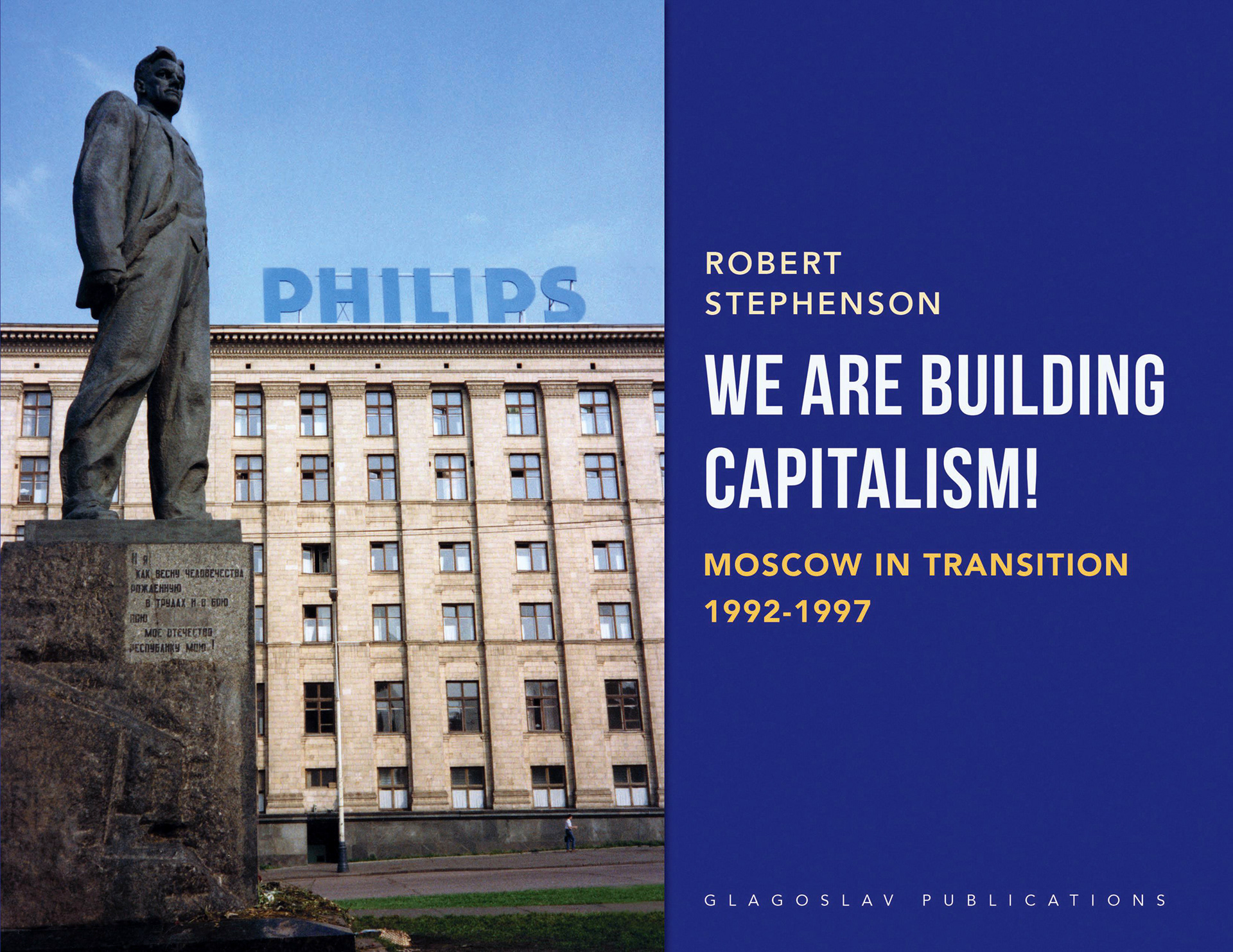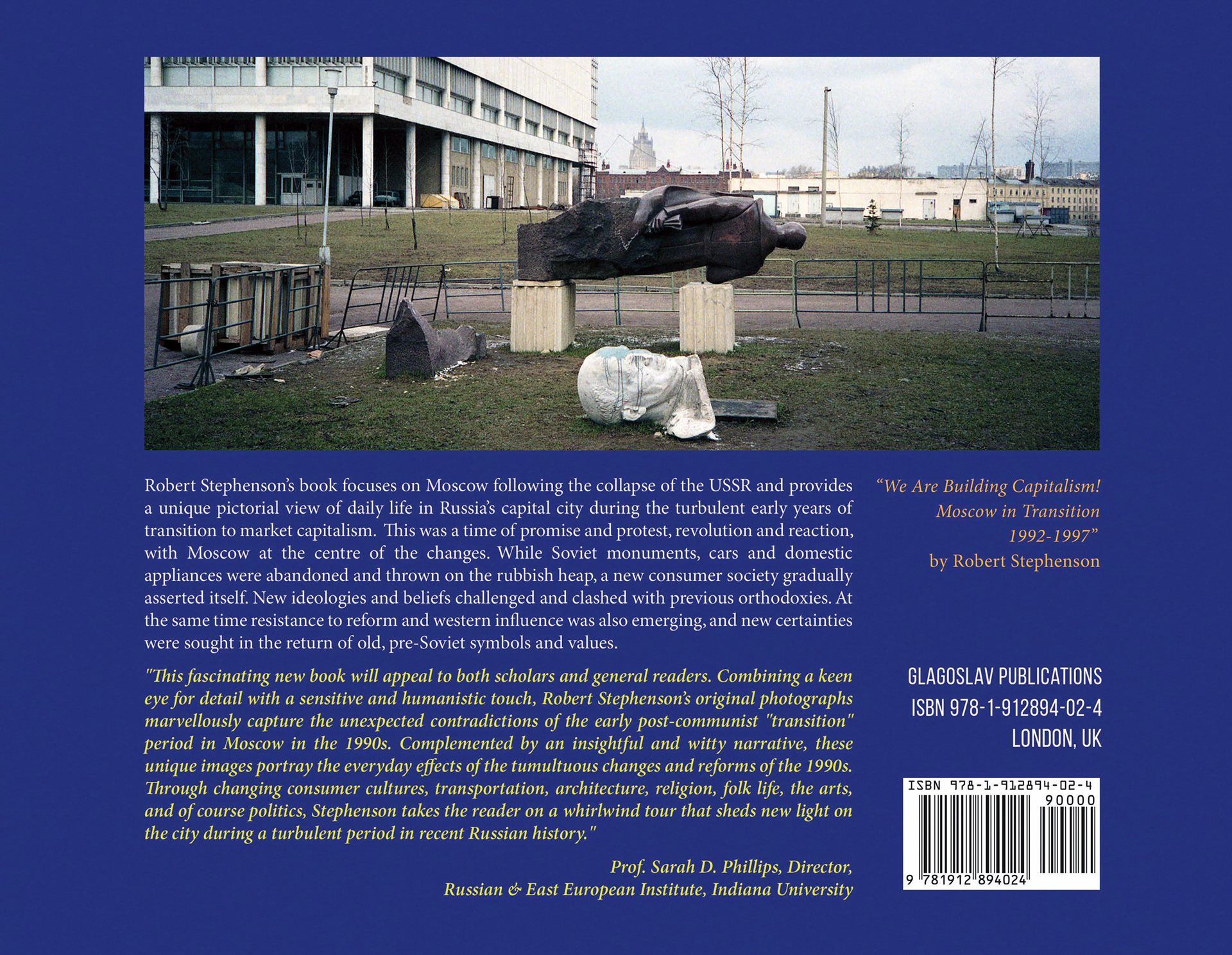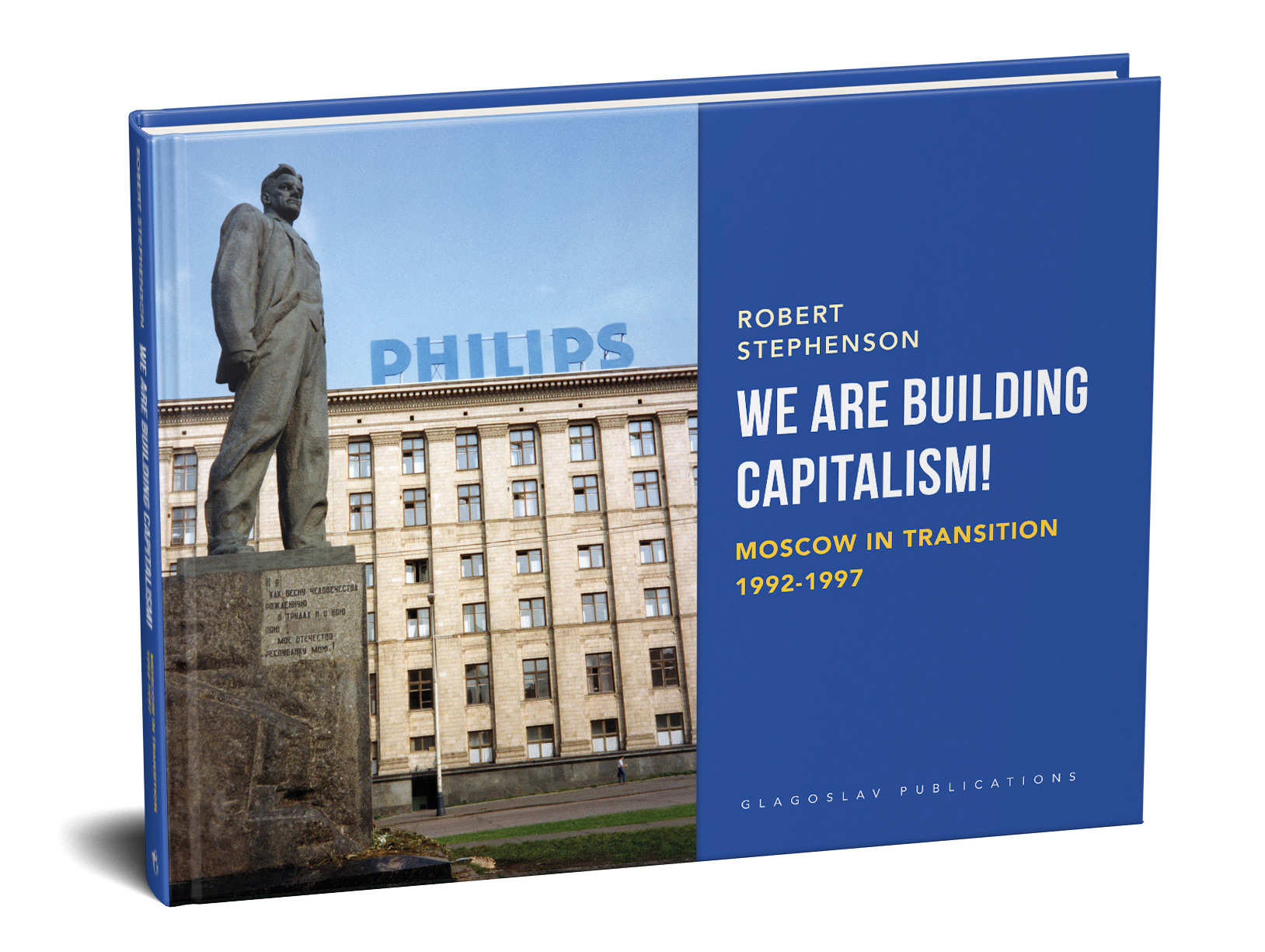 "This fascinating new book will appeal to both scholars and general readers. Combining a keen eye for detail with a sensitive and humanistic touch, Robert Stephenson's original photographs marvellously capture the unexpected contradictions of the early post-communist 'transition' period in Moscow in the 1990s. Complemented by an insightful and witty narrative, these unique images portray the everyday effects of the tumultuous changes and reforms of the 1990s. Through changing consumer cultures, transportation, architecture, religion, folk life, the arts, and of course politics, Stephenson takes the reader on a whirlwind tour that sheds new light on the city during a turbulent period in recent Russian history." 
Prof. Sarah D. Phillips, Director, Russian & East European Institute, Indiana University​​​​​​​
"This evocative collection of photographs is accompanied by a clear and sensible text. It vividly describes how Moscow made a surprisingly peaceful transition from Soviet communism to a flawed capitalism which greatly increased the prosperity of of its ordinary citizens, but left many of them deeply dissatisfied with the huge political, economic, social and personal changes that had been imposed on them with such suddenness." 
Sir Rodric Braithwaite, British Ambassador in Moscow 1988-1992
"The 1990s is the most interesting period in Moscow's history. The author himself breathed Moscow's air and observed with bright eyes the everyday life of Muscovites. Transition and continuity meet in his pictures, as the old urban space adapts to the new era. Monuments are being dumped, street names changed and buildings demolished. Stephenson shows with his sensitive pictures how the Muscovites were once again taking over their city. 
Each of Stephenson's images glows with sensitivity and an extraordinary empathetic attitude of the city and its inhabitants at different times of the year and with great affection. For city researchers, travelers and urbanists, Stephenson's book sends a message of hope: every city is vibrant and strong when its residents feel it. The book is modern pictorial cultural history at its best!"  
Prof. Laura Kolbe, Professor of European History, University of Helsinki.
"Robert Stephenson's captivating panorama of Moscow in the 1990s ... hymns a lost decade which, in turn, was swept away by the dynamic, often brutal, capitalism of the era which began in 2000 with Vladimir Putin becoming Russian President ... [The book] is divided into eleven sections embracing 'The Shadow of the Past', 'Inflation, Speculation and Accumulation', 'Religious Resurgence', 'Out with the Old and In with the New', 'The View from the Street', and more. Each section is provided with an informative, often witty, introduction, and the images seek to capture the effect of the changes to daily life ... Anyone who lived in Moscow during those years will enjoy this compendium. It will bring back many memories of the huge changes that hit the Russian capital and, indeed, disoriented many locals. A world which has now vanished."
Martin McCauley, formerly Senior Lecturer in Politics and Chair of the Social Sciences Department at University College, London in East-West Review, Journal of the Great Britain-Russia Society, 

ISSN 1759-863X Vol. 18, no. 2 ISSUE 51 Autumn 2019